Creating Perfect BOOKING Journeys with GOOGLE ADS
Our goal is to maximize your pay-per-click ROI by bringing in quality Traffics, inquiries, and booking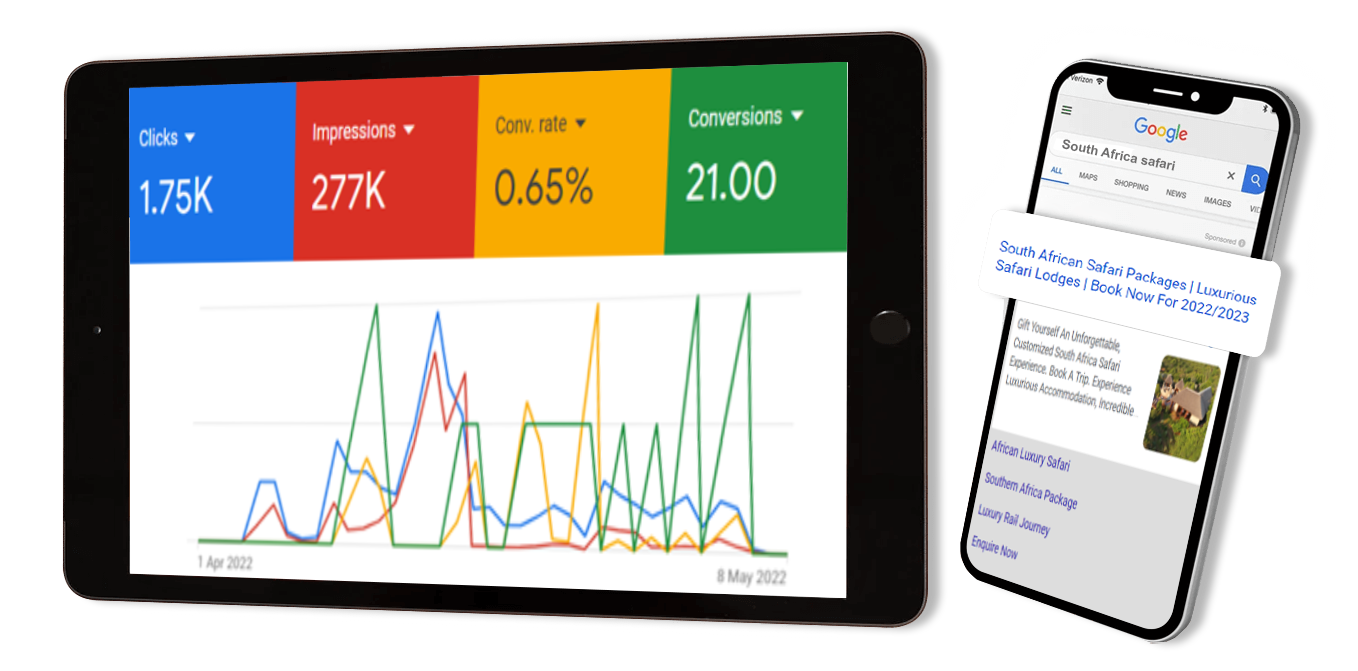 Reasons Why Safari Operators Must Consider google ads for 10x Bookings
When considering if Google ads are right for your safari business, there's a lot of variables to think about such as: who is going to continuously monitor my safari campaign and make changes on the go if needed. How big market is for the safari operators, what are the targeted keywords which will give inquiries, are my safari campaigns are reaching to the people who are really searching for African Safaris.
At Safari Marketing Pro, we're on a mission to trim the fat and make sure your paid strategy gives back more than it takes. Every Safari campaign we launch will deliver the best returns on investment, which you simply can't find elsewhere.
We take care of that process for you, so you focus on what you do best, growing your safari business.
Be Seen Across the Web

When your safari business is at the top of Google's results, then you're also at the top of customers' minds.

Advertise to Your Laser Target market

Target your intent prospects by location, age, gender, income, and time of day.

Control Your Costs

Set your own budget which can be adjusted whenever you want.

Measure Your Performance

See how your ads are performing, adapting to push what works for you.

See Results in Under 24 Hours

Google Ads will get your business on Google's first page in days, not months.

Increase more traffic. More inquiries

People searching for your safari services are very likely to book.
Google Search Advertising
For Your safari Buisness
Looking to get more bookings with Google search advertising? By paying Google will promote your business directly to your potential customers who are actively looking for safari to Africa.
Whether you're looking to fine tune your existing safari campaign or you're starting from scratch and need a complete campaign setup, the paid search specialists at Safari Marketing Pro can help with every aspect of your Google Ads.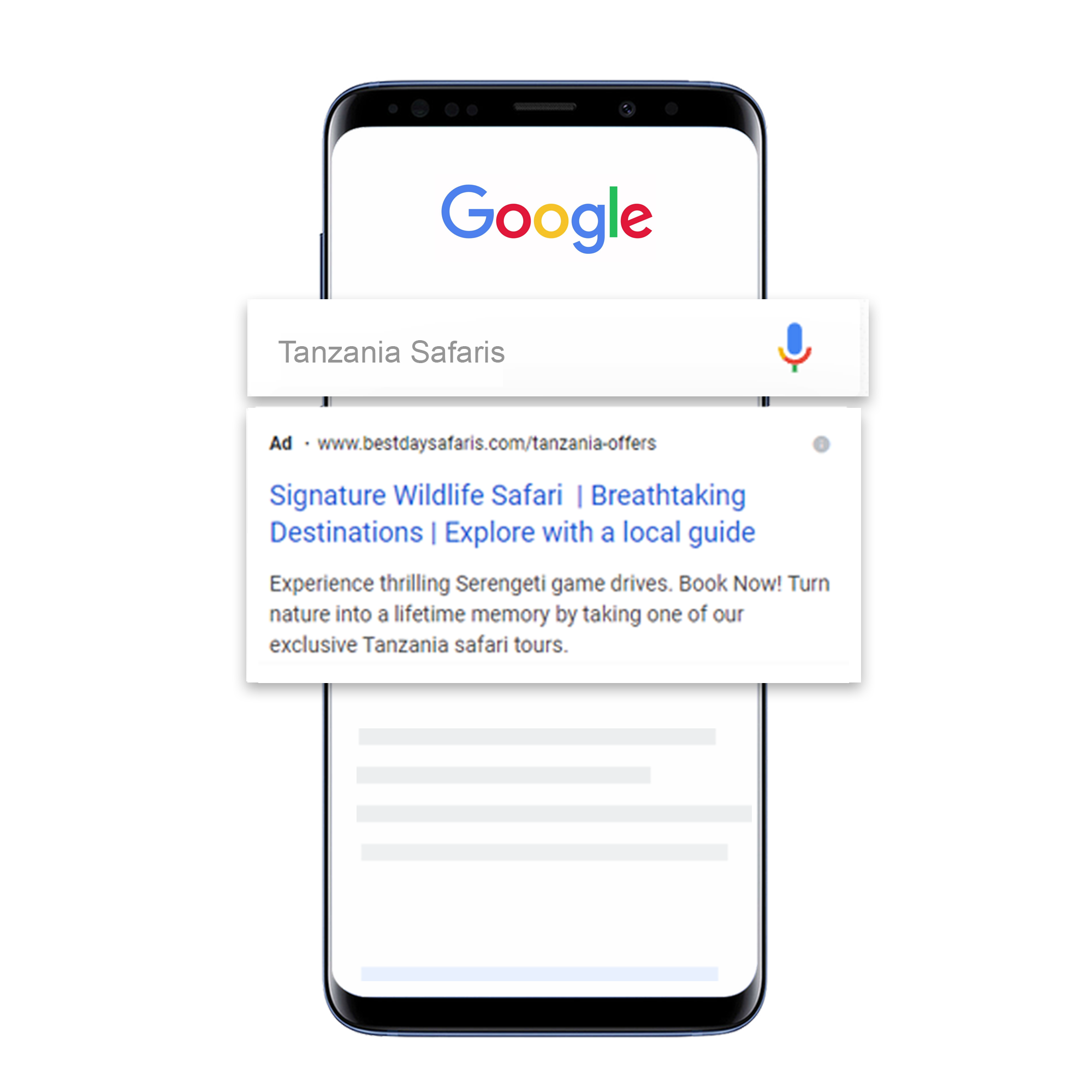 Google Display Advertising
For Your safari Buisness
Display advertising is known for its effectiveness in reaching more than 90 percent of online users. So your Display ads appear on Google's partner websites, targeting people who visited travels related sites. Display advertising maximizes photos and texts to capture the online users' attention and convince them to take action. We recommends display advertising to companies with lengthy sales cycles and niche or luxury customers.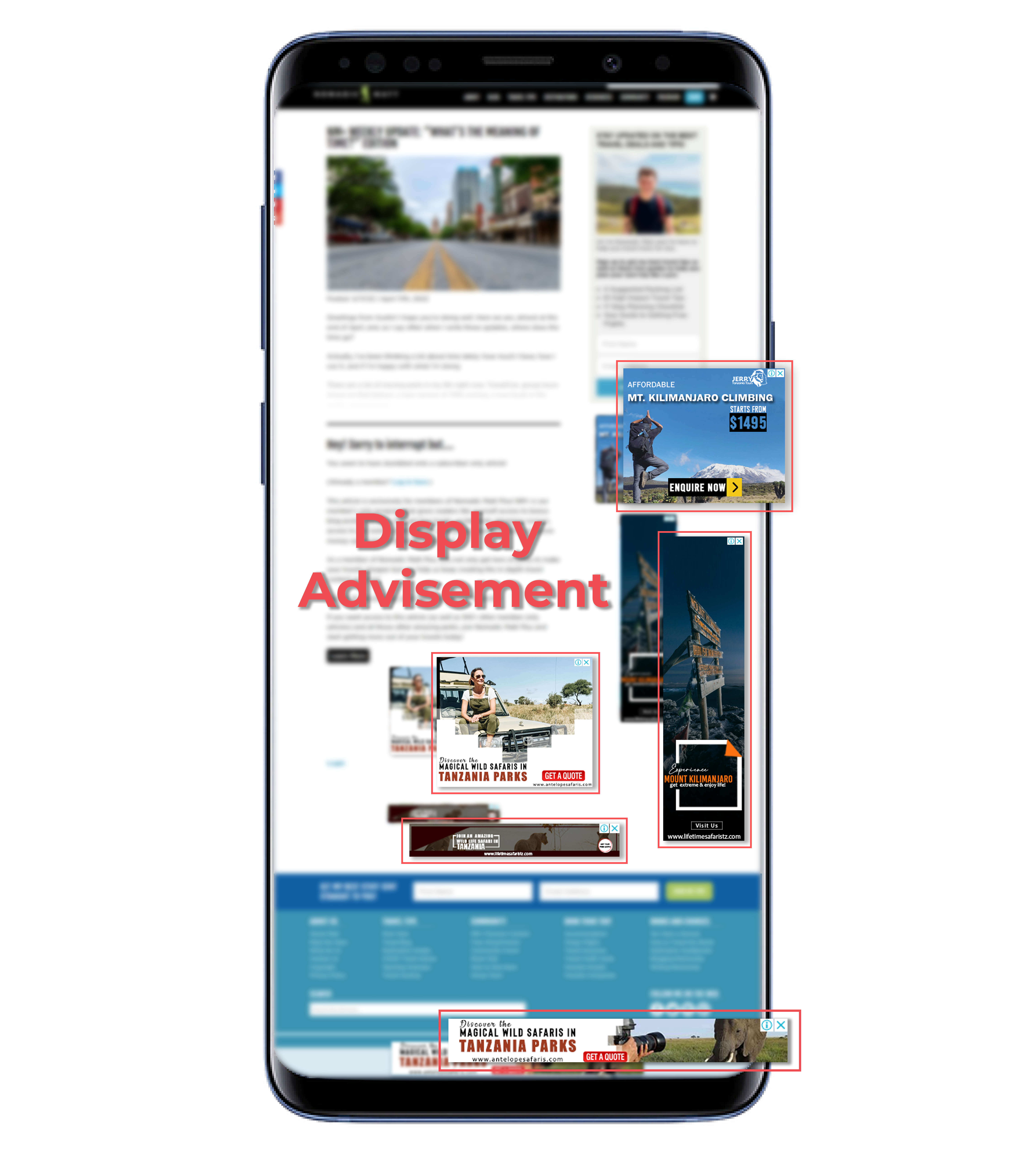 Remarketing Advertising
For Your safari Buisness
More than 90% of users don't book from a website on first visit and 75% normally make the booking confirmation after seeing you several times on various channels. This is usually called Remarketing, which is all about reaching those 'lapsed' customers and bringing them back to your site.
We have already proven that retargeted ads have a 10 times higher click-through rate than regular safari display ads. And If you want to experience the boost of your bookings and website traffic then display ad are the by building around in-depth customer data, you can effectively remind customers about the benefits of African safari like yours.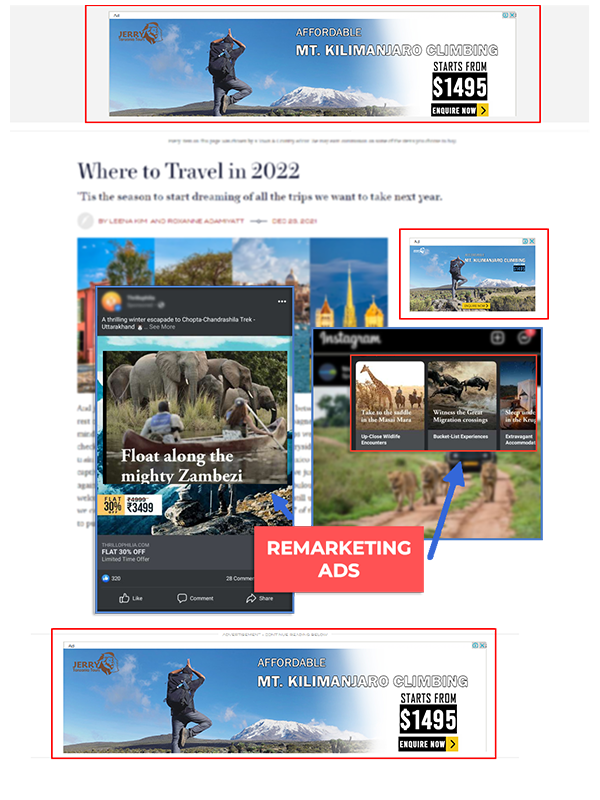 Why SMP is the only choice for your safari campaigns
Advertising through google ads is one of the best ways to expand your reach, find new customers, and grow your safari business. However, it's easy to waste money with google ads, especially when you don't have a strategy or don't know how to optimize your bids. If you're serious about adopting google ads as an advertising method, you'll want to work with a company who knows your safari industry better than a safari owners.
At Safari Marketing Pro, we have a team of experts that has extensive experience with Safari search ads, display ads, programmatic efforts, etc. Our mission is to help safari operators like you to reap the benefits of your safari PPC campaign.
When we work with clients about developing an effective advertising strategy, we trim the fat and create an effective paid search strategy that will get you clicks.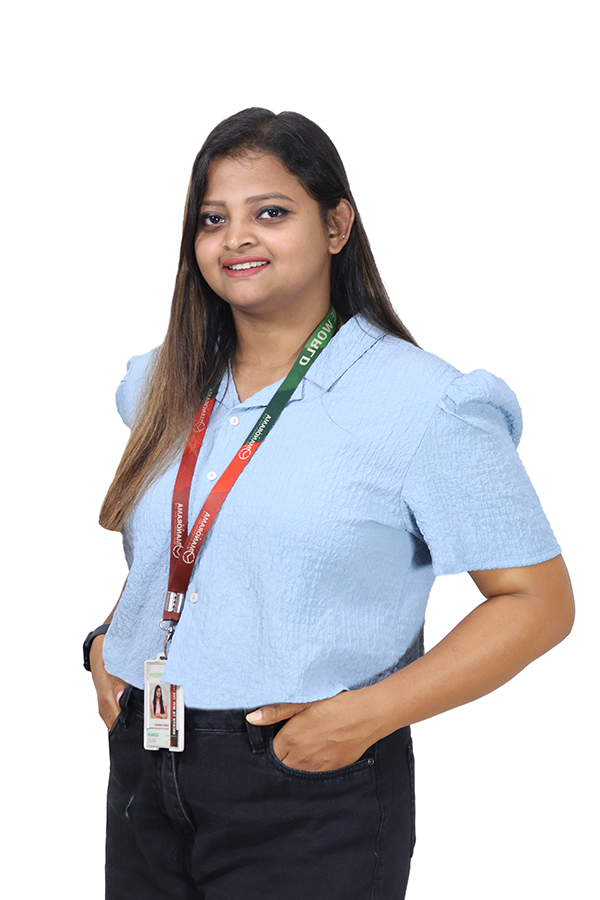 //////////?php include_once 'includes/we-donot-charge-section.php'; ?>
Reasons to Consider Google Ad Safari Campaigns

Elevated Return on Investment
More traffics mean more bookings, & more booking means more ROI.

Improved Brand awareness
Being present among the top search engine results, campaigns can help improve your safari brand awareness.
Enhanced Visibility on Google
Our Safari campaigns can help you to stand and secure your spot on first page search engine results.

Increased Number of bookings
These ads are responsible for increasing CTR, which in turn helps you in booking conversion

CTAs (Call to Actions)
With campaigns displayed on Google, relevant customers can be attracted with the effective call to action given in the ad.
Merging google ads and organic
When the power of google ads merges with the strength of Organic, results-driven become more powerful than ever.
Step 1:

Strategies That Work for You
Every safari business is different with its own different needs. So, there's no such thing as a one-size-fits-all strategy. We'll analyze your market size, and market trends also listen to your concerns so we can tailor-made a strategy that works only for your safari company.
Step 2:

Intent Keyword Research
So if you want to succeed with your safari campaigns today, then search Intent needs to be a big part of your approach. At Safari Marketing Pro, we knows the customer's intent behind target keywords can make your safari campaign more effective and efficient.
Step 3:

Creation of Effective Safari Ad Copy
It's the only bridge between your safari landing pages and all the potential customers searching online for African Safaris. So before create ad copy, the first thing we do is define the goal of the copy which will make the customers to book with you.
Step 4:

Safari Landing Page that covert bookings
We create your safari landing pages with one intent to — get more inquiries and bookings. So once someone landed on your safari landing page, it should be clear what you want them to do — submit their info to your lead form.
Step 5:

Transparent Safari Campaign Management Pricing
At Safari Marketing Pro, we always aim to form a strong working relationship with our clients. This is why we're all about transparency. We work with your goals in mind every step of the way, so you get results you can actually see.
Step 6:

Detailed Reporting
Safari Marketing Pro is all about involving you with your customers. Our Safari campaigns include comprehensive data tracking tools that will let us know how well your campaign is performing. You'll know everything you need to know and we'll give educated suggestions on how to proceed.
Frequently Asked Questions
Yes, we'll conduct an in-depth audit of your Google Ads campaigns to identify areas to improve. Plus, we'll schedule a Google Ads Consulting session, so you can get all of your questions answered by an expert AdWords consultant.
An effective safari Google Ads campaign can start driving traffic, leads and bookings to your site in under 24 hours.
When we work for Google ad campaigns, You Can Expect:
Increased leads, inquiries and traffic.
Targeting for your most qualified and relevant customers.
Total transparency and control over your budget. No hidden fees!
Results you can actually see in as little as 24 hours!
24/7 assistance with your safari campaigns!
In-depth reports for strengthening your next strategy!